< back
Covergirl | Magic Mirror
New York | 2018
Our Services
Production
Insight
Innovation
UX
Concept Development
Design
Technical
R&D
Deployment
Support
01. Challenge - A Phygital Approach
Covergirl approached Holition to create a magic mirror for their first ever brick and mortar location in Times Square, seeking a fun and quick solution to discover their latest products and looks. Holition set out to create a Blended Reality Magic Mirror that makes makeup shopping fun and extremely shareable.
Covergirl Idle Screen Animation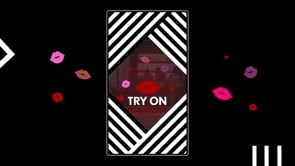 02. Solution - Nailing the Perfect Selfie with Digital Makeup
As the first blended reality mirrors in the United States, the experiential point of sales tackle sales, marketing and beauty pain points from a new dimension. Between the two magic mirrors in the Times Square location, shoppers can virtually try on 36 lipsticks and 7 eyeshadows by simply picking them up, courtesy of Perch Interactive's unique technology. Courtesy of Holition's AR technology, users can form over 100 virtual makeup looks in under three minutes.
With the featured lipsticks and eyeshadows located directly next to the magic mirrors, convenience of conversion is elevated to the next level, alleviating the search for the product after try-on.
The technology also allows users to take photos and share them to shop their favourite looks on their own device.
covergirlHalf2
covergrilhalf1
covergirlfull2
03. Insight - Covergirl's Technology Evolution
After the successes of Covergirl and Holition's previous AR activations (see Covergirl's BeautyU app and In-Browser AR Tool as developed by Holition), the mirrors were a welcomed addition to their augmented reality portfolio as the first in-store AR activation.
A visible uptick in sales of the featured products and continued increase in social shares serve as a testament to the mirrors' success.
covergirlfull1
"The COVERGIRL flagship represents this incredible
moment in beauty – where rich experiences matter most and
where true self-expression and experimentation are the only beauty standards."
- Ukonwa Ojo, Coty Consumer Beauty Chief Marketing Officer
rule line
holition beautybyholition logo