< back
Farfetch | Top 100 Data Visualisation
Dubai, 2018
Our Services
Production
Concept Development
Design
01. Challenge - 'Make Data Fashionable'  
Farfetch wanted a snapshot of data from a week to a month to be frozen in time, to highlight what's on trend or popular in this particular market right now. The visualisation was also meant to serve as a testament to just how powerful Farfetch is as an ecommerce platform. Valuable and actionable insights were also gathered from the piece, informing future buying strategies, marketing allocation and/or consumer behaviour touchpoints.
Farfetch
"We've heard
that it looks like
Space Odyssey,
as if you're travelling
through space and time.
We'll take it! "
02. Solution - Behaviour on a Macro and Micro Level 
The circular visualisation was a creative means to highlight Farfetch's diverse brand range and the retailer's presence across both global and Middle Eastern markets. Two types of data came together to form a two-part installation: transactions (orders placed over time, and values) and brand ranges, which were then filtered on a global and regional scale.
The circular body of the visualisation was a motif that's been carried through all of Holition's data visualisations, as a reference to the constantly evolving and revolving retail climate. The speckled colouring in the pieces followed the colour palette from the whole event, celebrating the vibrant Middle Eastern economy.
aaa 2654 02
me farfetch 01
Farfetch Data Visualisation - 30s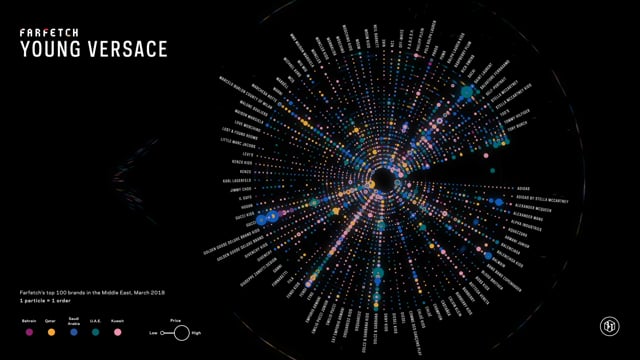 03. Insight - Inspiring Visuals to Prompt Insightful Decisions
Insights on behaviours by country, by transaction time and more could be gleaned from the visualisations. From a consumer perspective, the ability to determine which brands were popular by country or an individual country's purchase power is very interesting. The visualisation informed marketing and sales teams about which brands had the largest impact on sales by volume, location and frequency, in addition to generating a great backdrop for press and media selfies at the live event. 
"Holition helped make data digestible, beautify it and make it attractive to use as a sales and marketing piece." 
screenshot 2018 11 12 at 16 05 52
screenshot 2018 11 12 at 16 06 35
farfetch event 62 of 256