< back
Hot Second | World-first circular economy concept
London, 2019
Our Services
Production
Concept Development
Design
Animation
Deployment
01. Challenge - Introducing a new prototype retail concept
To introduce digital fashion within the physical retail space, Holition collaborated with Futurist, Academic, and Founder of HOT:SECOND, Karinna Nobbs, and 3D artist Emily Switzer to create a new concept that would enable visitors to experience digital fashion garments from pioneering brands including The Fabricant, Carlings/VIRTUE and RÆBURN.
Hot Second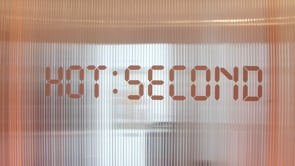 02. Solution - Trading Physical Products for Digital Experiences
The concept for the HOT:SECOND retail prototype emerged from Karinna Nobb's field research, which indicated a general curiosity towards the concept of integrating digital fashion within physical retail environments that would encourage visitors to enjoy fashion in a more sustainable manner. To address this, we created a phygital experience that would allow each visitor to experience digital garments using augmented reality virtual try-ons.
To unlock the digital experience, visitors had to trade in a physical garment to "Love Not Landfill," granting them entry into the virtual try-on pods where their journey into digital fashion begins. Each visitor was greeted by a virtual tailor, ready to unveil the augmented reality mirrors, which enabled each visitor to virtually try-on a spectrum of digital fashion garments ranging from Couture to Streetwear. The aim of the store prototype was to leave guests both with a digital and physical memory of their experience, ultimately transforming their feelings and attitudes towards digital fashion garments.
hot second 1
hot second 2
hot second 5
03. Insight - A world first 
 The world's first circular economy concept store trading physical products for digital experiences successfully opened its doors to the public for a limited time at Protein Studios in Shoreditch, London from November 19-21, 2019.
Hot:Second not only offers a new kind of retail alchemy, but more importantly also addresses a global issue such as sustainability in fashion, which according to the United Nations, is responsible for producing nearly 20% of global waste water and 10% of global carbon emissions. In the UK alone, the House of Commons reports that the UK buys more clothes per person than any other country in Europe, around one million tonnes of textiles are discarded by UK citizens annually, amounting to an average of £140 million pounds.
hot second 3
hot second 6
hot second 7
12
hot second 8
"We are always interested in ideas which are at the beginning of their journey and digital clothing could be a big thing in the future, but the only way to understand it is to explore it and get consumers reactions".
- Jonathan Chippindale, CEO, Holition