< back
Jenny Holzer | LOUISE BOURGEOIS XX
Basel, March 2022
Our Services
UX
Production
Concept Development
Data Sourcing
Analysis Design Deployment
01. Challenge - Retelling the story of Louise Bourgeois' work through the eyes of Jenny Holzer
Jenny Holzer, one of the leading contemporary artists of her generation curated an exhibition of the work of Louise Bourgeois (1911–2010), widely regarded as one of the most important and influential artists of the twentieth and twenty-first centuries at the Kunstmuseum Basel, in Switzerland. To help bring the exhibition to life Holition created an augmented reality experience that depicted the powerful work of both artists through a range of creative technologies.
.
visual2
02.  Solution - Harnessing Technology for Art
The collaboration with Jenny Holzer Studio is the latest in a series of augmented reality-enabled exhibitions that Holition has designed for Holzer, including Softer at Blenheim palace in 2017, You Be My Ally at the University of Chicago in 2020, and most recently Like Beauty in Flames in Spring 2021 at the Museo Guggenheim Bilbao, Spain. Harnessing augmented reality, advanced image recognition technology, 3D spatial positioning and cutting-edge graphics features, users are able to see Holzer's signature text-based art reimagined and brought to life through immersive digital technologies.
In addition to the live experiences, Holition has also produced an augmented reality filter, 'FACE LOUISE' for users to enjoy through social media. The filter can be accessed through Kunstmuseum Basel's official Instagram account. The Louise Bourgeois XX mobile app designed by Holition can also be experienced from anywhere in the world. The augmented reality app allows users to see Bourgeois' words floating around their physical surroundings wherever they go, and to create and share their own AR images. The app can be downloaded for free from the App Store (iOS) and the Google Play Store (Android).
 
visual1
visual4
Louise Bourgeois X Jenny Holzer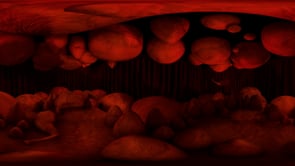 Merging two artistic worlds through creative technology.
03. Insight - Merging two artistic worlds
"Seeing Louise Bourgeois' work through Jenny Holzer's lens merges two artistic worlds and creates such a unique and outstanding exhibition. Jenny Holzer's interpretation of Louise Bourgeois allowed me to rediscover two great artists through this immersive exhibition." - Pauline Roques, Lead Designer, Holition. The output of these experiences is a multitude of highly engaging public artworks that aptly demonstrate how the relationship between technology, human experience, and creativity can leave a lasting impact. Take a closer look at the exhibition through the eyes of the Humans of Holition here.
screenshot 2021 08 10 at 13 48 25
visual3
website publications 02