< back
Jo Malone London | Virtual Townhouse
360 Virtual Space, 2020-2022
Our Services
Production
Concept Development
Data Sourcing & Analysis
Design
Deployment
01. Challenge - Can we use technologies to engage customers in a multisensory brand experience from home?
Renowned British fragrance house, Jo Malone engaged Holition to create a fully immersive 360-video-based virtual space designed to accompany the brand's global Christmas activations beginning in November 2020.
02. The Solution - Enchanting consumers through an immersive virtual space
Fusing together the best of both tech-driven and human-led experiences, we created the Jo Malone Virtual Townhouse - a highly engaging and world-first virtual store experience that delivers a convenient, shoppable, and seamless digital retail experience. Through a playful and engaging multi-sensory experience, the brand's exquisite range of products and fragrances are brought to life.
JML Townhouse 360 Tour 2020-2021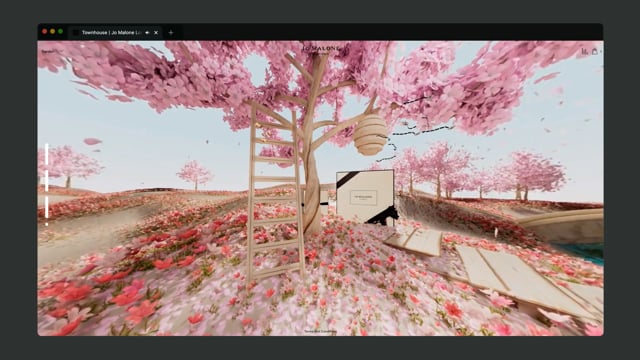 Experience
Inside Jo Malone London's 360 Townhouse, users navigate through virtual rooms interacting with various animated elements and illustrations inspired by the brand and its signature fragrances. Each room features a combination of computer graphics, soundscapes and hand-drawn illustrations designed by Holition's in-house artists and technologists.
As visitors wander through the digital environments, they explore Jo Malone London's products either via scent categories or by exploring ingredients. The experience becomes a whimsical process of self-initiated learning and discovery.
The web-based Virtual Townhouse is available across Jo Malone London's key global markets and can be explored through users' own devices, anytime and anywhere in the world.
jml process
jml ep f ar up in the clouds
jml ep&f up in the clouds
Up in the clouds
The newest edition to Jo Malone's Townhouse is Up in the Clouds virtual space and AR filter. Holition took inspiration from English Pear and Freesia campaign and created a dream-like environment hidden in the clouds. The AR update attracted users to interact with the surrounding environment and find scent notes to unlock new products meanwhile the 360 space allowed users to experience a seamless shopping experience by discovering the latest products by tapping the flying balloons or clouds.
Jo Malone 360 space and AR
Spring Blossoms
To accompany the launch of Jo Malone's new Spring Blossoms collection, Holition updated the Virtual Townhouse to include whimsical outdoor environments that highlight inspiration behind the brand's hero scents and campaign.
These new updates included hotspots, inviting users to shake, swipe, and blow into their mobile devices to trigger exclusive content - an entirely new way to explore a variety of human senses.
jml townhouse xmas within mac
Promotional spaces
For last year's Christmas activation, Holition created two new visual interactive elements inside of the virtual space including a gravity-controlled glitter effect. A new hotspot inside the Christmas room included a snap-and-save functionality, allowing users to take a festive themed selfie photo, which could be saved as a gif for posting on social media.
STAR ROOM JML
jml townhouse star room
03. Insight - An experiential trip inside the Jo Malone brand universe
Jo Malone Virtual Townhouse is a huge leap towards redefining the retail experience by inviting consumers to discover Jo Malone London's brand universe in a way that online e-commerce platforms or brick-and-mortar stores have never done before.