< back
Cyprus Duty Free | Mirror Box & Selfie Station
Larnaca Airport, April 2023
Our Services
UX
Production
Concept Development
Design
Technical Build &
Deployment
01. Challenge - How Can Technology Create Experience In-Store?
Cyprus Duty Free, part of ARI Airport Group, approached Holition to explore the use of creative retail technologies within the Cyprus Larnaca International Airport in 2023 to engage travellers, increase footfall and time spent inside the travel retail environment.
02. Solution - Harnessing Creative Technology to Encourage Participation.
With a human-first approach to consumer retail experiences, Holition's role was to introduce innovative in-store installations showcasing Cyprus Duty Free's unique sense of place.  These installations were specifically tailored to suit fast-paced environments, ensuring a compelling yet seamless integration within the retail store journey. 
To achieve this, Holition developed two distinct retail experiences: The Mirror Box and The Selfie Station, which aimed to create memorable moments of interaction and reflection, prompting visitors to actively engage with the brand.
Cyprus Duty Free, Larnaca 2023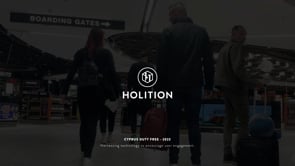 mirror box cad
fashion collage mirror box
The Mirror Box
Created with the intent of extending the retail journey to drive awareness and foot fall within the Fashion District, the concept behind the Mirror Box was centred around establishing emotional connections, and ultimately driving customer engagement and loyalty in a fast-paced and competitive environment.
The Mirror Box installation is an immersive experience that celebrates the language of fashion through the lens of Cypriot blooms and wildflowers. Within the Mirror Box, visitors can experience immersive content around animated fashion collages which include fashion models, mood boards, material inspiration and colour palettes - creating a distinct, emotional link between the experience and the Fashion District at Cyprus Duty Free.
By appealing to the senses and creating memorable moments, the experience helped establish a positive emotional association with travellers within Cyprus Duty Free.
mirror box interactions
The Selfie Station
Need: Slowing travellers down at the beginning of the journey, exploring the personality of Cyprus, 
To slow travellers down at the beginning of their journey, Holition also created a Selfie Station - a fun space that highlights the culture and personality of Cyprus by inviting users to capture their memories and share their individual experiences with their communities.
Selfie stations add an element of entertainment and enjoyment to the travel retail environment. They offer travellers a chance to break away from the routine and have a memorable experience during their journey, helping increase Cyprus Duty Free's brand visibility and reach, as well as generating buzz and interest around the travel retail environment.
selfie booth
workshop selfie booth
03. Insight  - Creating Wow Moments in Fast-Paced Environments.
In a crowded travel retail environment with numerous brands vying for attention, introducing brand experiences driven by creative technologies sets a brand apart from the competition. With a human-first approach to consumer retail experiences, The Mirror Box and Selfie Station at Cyprus Larnaca International Airport offers unique and engaging encounters, allowing Cyprus Duty Free to create a positive and memorable impression on travellers, foster loyalty, and drive business growth in the competitive travel retail industry.
selfie station hero