< back
Mercedes Benz | Perceptive Futures
Innovation consulting, November 2021
Our Services
Strategy & UX
Production
Concept Development
Design
01.  Challenge -  Understanding the Future of Luxury
Mercedes Benz's Advanced User Experience Design Group approached Holition to conduct strategic consultancy involving looking closely at future relationships between consumers and their products.  Always thinking into the future, the Group is interested in understanding the Future of Luxury, specifically how non-automotive luxury brands are imagining these types of interactions, relationships and narratives.
artboard 3
artboard 1
02.  Solution - Perceptive Futures
To inform Mercedes Benz's Advanced User Experience Design Group and provide strategic directions to specific UX design initiatives for future car models, Holition's Strategy & Insights team conducted comprehensive trend forecasting, amalgamating macro and micro trends shaping the future of the luxury industry and demonstrating a variety of possibilities around a core idea of hyper-personalisation.
Alongside the strategy piece, Holition's Creative team developed a data visualisation, exploring a wide variety of data sets and sources, including those relevant to the individual, the Mercedes Benz driver community and Mercedes Benz as a global corporate entity and used that data to identify ideas, recommendations and experiences uniquely personal to each individual driver.
Recognising that different circumstances and situations will require adaptive design solutions, the creative visualisation tools developed by Holition provided a variety of design options that highlight how creative technologies can be used to communicate data in artistic and comeplling ways. Switching from macro to micro data visualisations, and from rational illustration to more experiential design forms, the direction mirrored the creative trajectory of forward thinking luxury brands.
Perceptive futures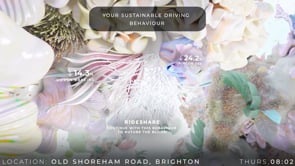 03. Insight - Harnessing Foresight & Creative Visualisation for Storytelling
By bringing together insight, foresight, and creative visualisation as storytelling tools, Mercedes Benz mirrored future-facing luxury brands, going beyond the traditional confines of luxury communications. By reimagining its overarching brand narratives to communicate emotionally-compelling narratives versus focusing solely on product, the automotive group becomes a pioneering brand - by creating a hyper-personalised communications framework that understands its global audience's behaviours and preferences in real-time.
mercedesbenz
An experience that is connected, co-created, and constantly evolving.