< back
Roberts Wood | Inside the Sanctuary
London, 2019
Our Services

Design
Technical
Deployment
01. Challenge - Communicating the design aesthetic behind ROBERTS | WOOD
For the presentation of their Spring / Summer 2020 collection at London Fashion Week in September 2019, ROBERTS | WOOD and Holition collaborated create an innovative and immersive storytelling experience that would communicate the concept behind their SS20 collection, Sanctuary | A digital craft.
The SS20 show examines the hybridization of artisanal making with technology. Roberts-Wood asks herself the questions - what must the "digital craftswoman" do to preserve the emotional value of making things? What in a designer's morals determines the soul of a made object? Through an exploration of both the hand-made and the 'augmented' process of making with technology, Roberts-Wood aims to propose her vision of entirely original, process-driven design; one that embraces the possibilities presented by technology, whilst fiercely protecting the value and importance of artisanal making.
Roberts Wood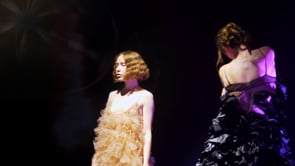 02. Solution - Creating a visual sanctuary through 3D Projection Mapping
To communicate the story behind the 'Sanctuary | a digital craft' SS20 collection, Holition created a 3D projection mapping experience that captured the delicate and ethereal aesthetic of ROBERTS | WOOD. Each piece within the collection embodies a juxtaposition between femininity, structure and form, coupled with artisanal handcrafted techniques, technology and innovation. Visuals created by Filmmaker and Director, Mae Sass were projected onto each model and their surroundings throughout the fashion presentation, unraveling the intricate detail of each uniquely-constructed garment.
Within it, guests were fully immersed inside ROBERTS | WOOD's design process - one that represents the design studio's commitment to creating a circual process by exploring new forms of material innovation and silhouettes and digitally reengineered fabrics and patterns to produce a sustainable collection.
roberts wood 2
roberts wood 1
3
11
19
4
03. Insight - Immersing in the Sanctuary
In creating The Sanctuary | A digital craft collection, Roberts-Wood's vision was to explore how clothing can serve as a blank canvas to project how we wish to be perceived by others. Through the hybrid use of digital technology and artistic visual narratives, the 3D projection mapping was a successful method in eliciting powerful emotions and immersing visitors inside the instinctively beautiful yet chaotic and at times unreal Sanctuary created by ROBERTS | WOOD. 
Roberts Wood - Behind The Scenes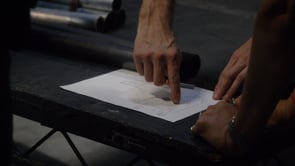 5
15
17